The kids and I – we want to get away. We dream of a summer road trip.

We spend the morning looking at pictures online. Then we get out our National Park map book and the Road Trips book I recently bought.
I slide the iPad away and L laughs. "Way to put the computers away and use the books!" she says. Or something like that.
E opens to a random page in the atlas: Grand Teton National Park. We look it up int he Road Trip book, we open up the computer for more pictures.
The kids and I – we dream about the pictures we see. E has always dreamed of going to Arizona, or Wyoming.
"This will make me so happy." E says
"Remember, " I warn them all, "We are just brainstorming here. I don't know what is possible."
We look at cabins and towns and roads.
We like to plan road trips, and we like to dream while we look at pictures of mountains and lakes and fields of flowers and bears.
Wait.
While exploring the website, we decide to click on how to explore safely in "Bear Country."
At first it's fine. All good information: Don't leave food out, make noise on the trail, stay away if the bear hasn't noticed you, don't climb trees.
But then there's the section on If a bear charges you.
That's when the kids are not so sure.
"I don't know if I can follow all these safety protocols…" E says.
And then we get to the section that says "If you are attacked at night or if you feel you have been stalked and attacked as prey, fight back."
So now bears are going to be stalking us?
"Well, we have bears around here. Bears are cute!" someone says.
And I stupidly say "Well, these are grizzlies though."
So we look up picture of grizzly bears.
And some of them do really look like cute creatures, walking through fields.
But, um.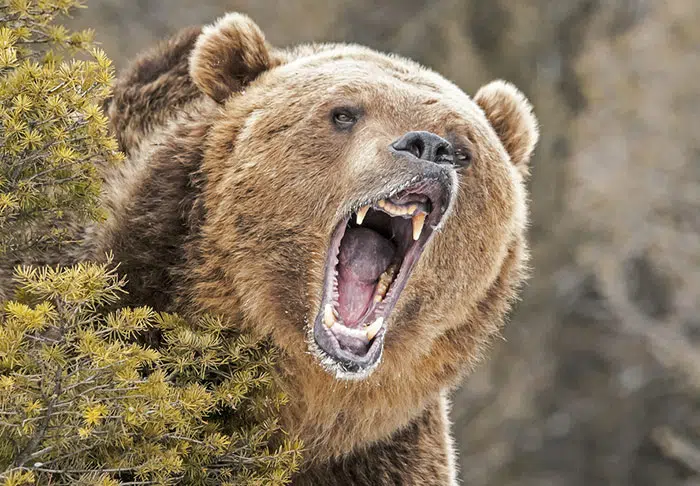 Yes, we googled. Only 1 death by bear a year.
Yes, bear spray.
But… can we do it? Can we hike when bears might be around any corner?
The kids and I – we want to go on a trip and not get attacked by a bear.